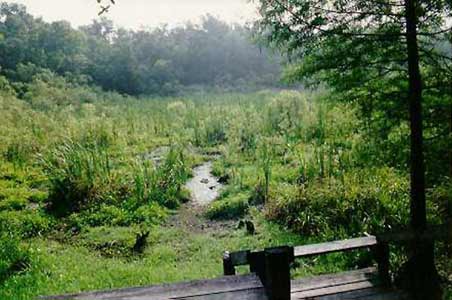 Overview
Bivens Arm is a small shallow lake covering approximately 189 acres in southwest Gainesville.  The lake supports a wide diversity of plant and animal life in an urban setting. Tumblin Creek, which is fed by small springs and seeps, drains into Bivens Arm and is the primary source of drainage into the lake. It overflows onto Paynes Prairie and eventually discharges to the aquifer via Alachua Sink. The lake area is designated as a wildlife sanctuary.
Water Quality
Bivens Arm is surrounded by apartments, restaurants, hotels, private residences and the University of Florida's restricted access Conservation Area Bivens Rim Forest as well as some of UF's agricultural facilities. Tumblin Creek feeds the lake, and as it flows through urban areas brings pollutants to this lake. Water quality testing at the lake shows that it is above state Numeric Nutrient Criteria thresholds for nitrogen and phosphorus. The source of pollutants is likely from Tumblin Creek. Bacteria is also an issue due to failing septic systems and wildlife. Water quality monitoring information is available for Bivens Arm. To access this data, please visit here and access the monitoring stations and data by clicking on the station on the interactive map. You can also learn more from the Bivens Arm Fact Sheet.
Plan a Visit
Bivens Arm Nature Park is 57 acres of marsh and oak hammock with a wildlife sanctuary, shaded family picnic grounds, an observation pavilion and a mile-long nature trail with a 1,200 foot boardwalk. A series of loops lets you wander up to 1.5 miles on natural footpaths.