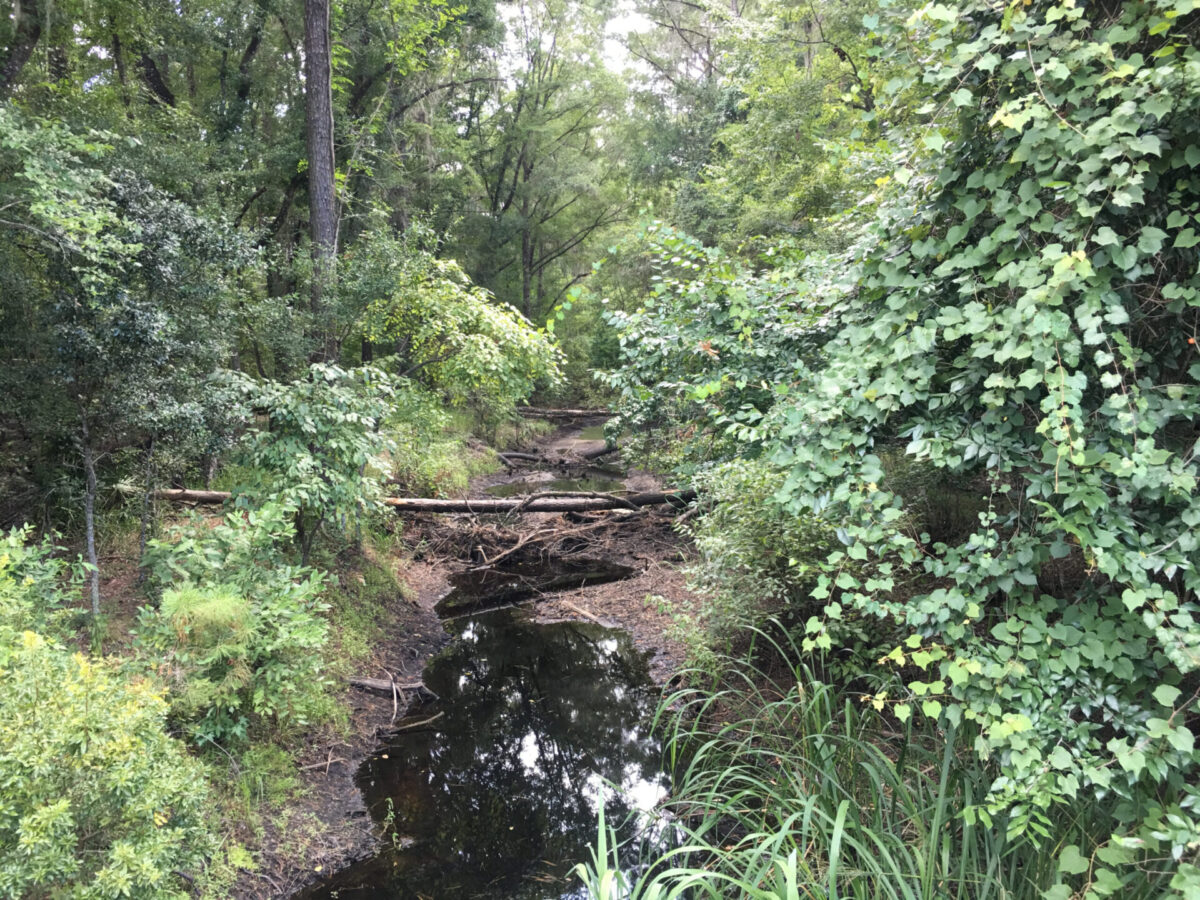 Overview
The Hatchet Creek watershed is located in the northeast quadrant of Alachua County. The main channel of the creek flows west to east and empties into Newnans Lake. The watershed is comprised of three sub-basins that encompass approximately 65 square miles of rural land. The majority of the watershed is located outside the Gainesville city limits, in unincorporated Alachua County.
Approximately 50% of the land in the watershed is devoted to timber production, 20% to agriculture, 20% to natural forest habitat, and 10% to low density residential areas and commercial facilities. Agricultural land uses include cattle, dairy, produce farms, and the 1,138-acre University of Florida IFAS Beef Research Unit. The eastern portion of the watershed is occupied by the Gum Root Swamp Conservation Area.
Water Quality
The Hatchet Creek watershed has more natural habitat than any of the watersheds in urban Gainesville. This stream maintains high quality habitat because only small amounts of stormwater enter this stream, since natural and timber land dominate this watershed.
Hatchet Creek near CR225 has the most diverse population of in- stream macroinvertebrates found in Alachua County creeks. In 2008 the creek earned a status of 'exceptional' on in-stream biological survey.
 For more information on water quality, download the Hatchett Creek Fact Sheet. Additionally, water quality monitoring information is available for Hatchett Creek. To access this data, please visit here and access the monitoring station and data by clicking on the station on the interactive map.
Fun Facts
• Four tributaries join Hatchet Creek before the channel turns to the southwest and discharges to Newnans Lake.
• The flow from Hatchet Creek is the largest inflow into Newnans Lake.
• Siviculture comprises 50% of the land in the Hatchet Creek Watershed.
Wildlife
Hatchet Creek Watershed has many natural, undisturbed areas with diverse habitats Baseflow in Hatchet Creek is derived primarily from springs and seeps from the surficial (of or relating to the earth's surface) aquifer system.
In the headwaters, forested wetlands and pine flatwoods dominate the area. This includes mixed hardwood lowland forest, pristine wetlands, cypress and pine swamps, and upland longleaf pine/turkey oak associations.
Common birdlife includes most of the native songbirds of the Gainesville area, woodpeckers, red-tailed hawks, osprey, and barred owls. Alligators, turkeys, and aquatic turtles are common as the stream approaches Newnans Lake.
Click the Image to See the Gallery!