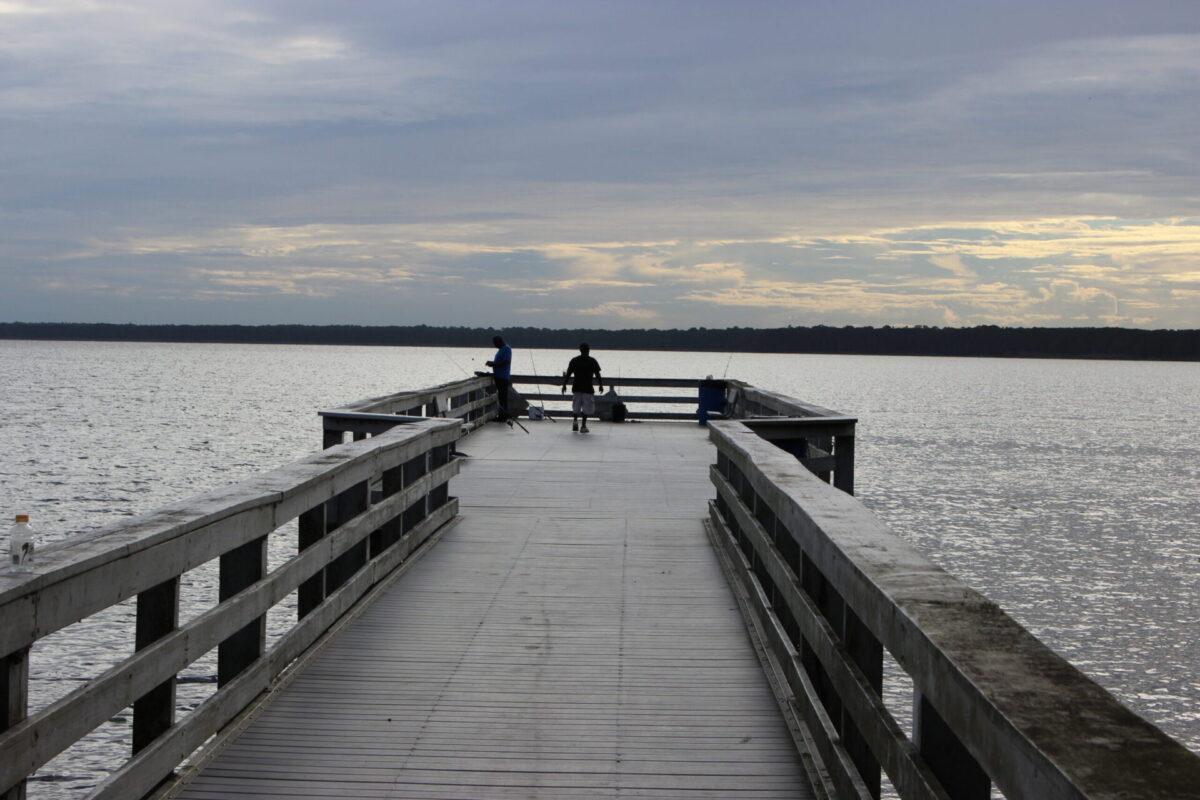 Overview
Newnan's Lake is a lake found on the eastern side of Gainesville. Little Hatchet, Sunnyland and Lake Forest Creeks discharge into the lake from the North and West side. Prairie Creek to the South drains the lake into Paynes Prairie and Camp's Canal.
The lake is approximately 6,609 acres and is considered a shallow basin lake. The acreage of the lake varies depending on rainfall. The variable water level used to be regulated by dams. While the lake is high during times of ample rainfall, it is also low during drought. In 2000, during a drought, many ancient canoes were discovered, some dating back 5,000 years. Much of the lakeshore is fringed by cypress swamp that becomes inundated when water levels rise.
Water Quality
Tributaries to the lake contribute much of the pollution that enters the lake. Erosion within the stream channel can potentially contribute additional phosphorus from soils in the Hawthorn group. Most of the pollution is from non-point sources such as fertilizers, leaky sewer lines and faulty septic tanks. Internal nutrient cycling within the lake is also problematic.
 A Total Maximum Daily Load was adopted in 2003 to address the nutrient (phosphorus and for nitrogen) pollution in Newnans Lake. For more information on water quality and to learn about studies an plans to reduce these pollutants, download the Newnans Lake Fact Sheet.
Plan a Visit
Newnans Lake State Forest is a 6,504 acre recreation area located east of Gainesville on the western shore of Newnans Lake in Alachua County. Two trail-heads are located along State Road 26 at 1404 NE 55th Blvd, and 1011 NE 55th Blvd, Gainesville.
On the south side of the lake is Earl P Powers Park located at 5910 SE Hawthorne Road. This park has a boat ramp, a fishing dock, as well as a play equipment and picnic tables.
Newnans Lake is also home to the Gainesville Area Rowing association that offers rowing programs on the lake for youth and adults.
Fun Facts
• Discovery of ancient canoes in Newnan's Lake placed this water body on the National Register of Historic Places under its Seminole name, Lake Pithlachoco, "place of long boats".
Wildlife
Newnans Lake hosts a wide range of flora and fauna. The gum and bald cypress swamps extending from the lake are intact natural systems and host a variety of wading birds and other wildlife. Bald eagle nests are found adjacent to this lake's swamps. It is a Florida Wildlife Commission designated Fish Management Area. Sparse areas of emergent grasses, bulrush and spatterdock are found around the shoreline of Newnan's lake. The most common fish in Newnans Lake are catfish and bream.
Click the Image to See the Gallery!