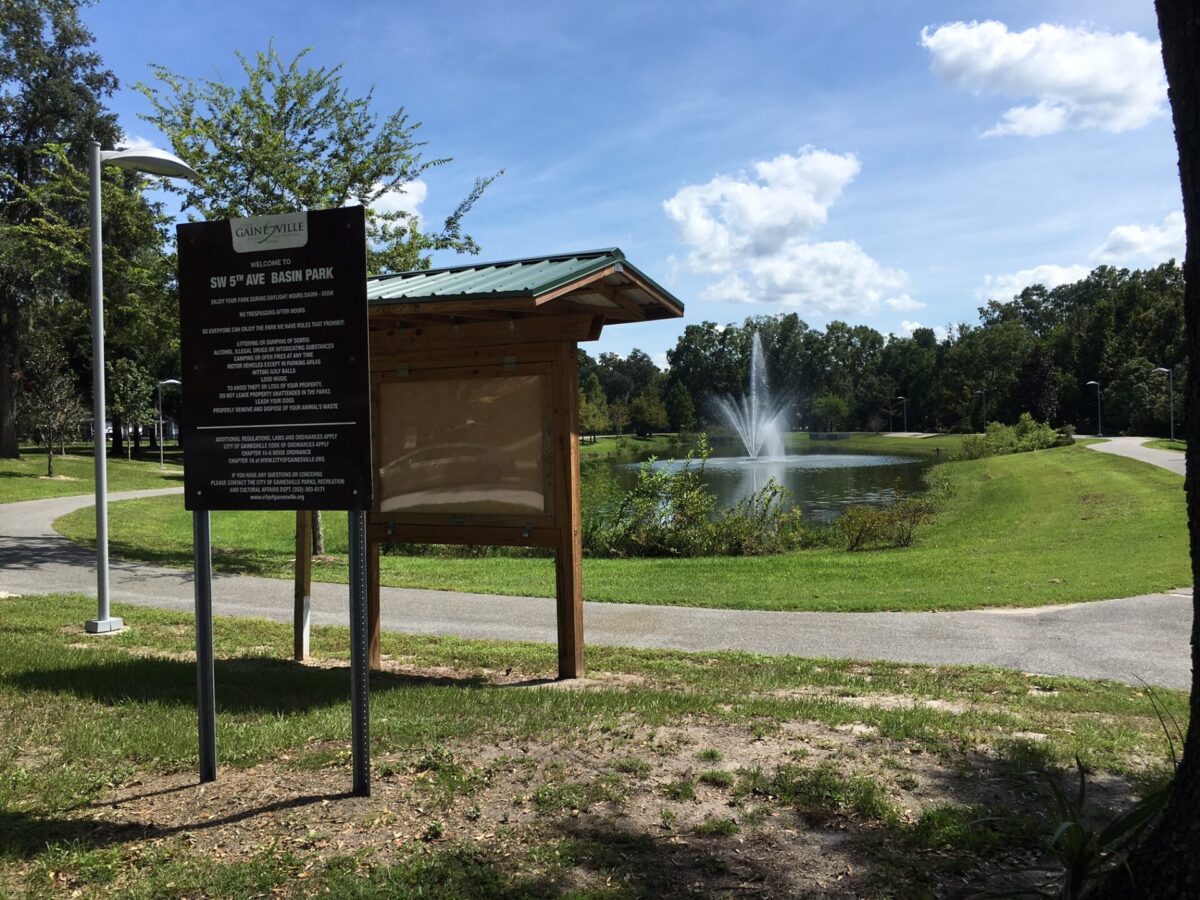 Overview
The Tumblin Creek watershed encompasses approximately 1,419 acres within the City limits and flows through south-central Gainesville to Bivens Arm Lake. The main channel of Tumblin Creek is fed by small springs originating beneath Shands at Alachua General Hospital (Shands AGH). It begins above ground near SW 4th Avenue east of NW 13th Street and continues south-southeast into a 30-acre natural forested wetland that borders Bivens Arm Lake. Bivens Arm Lake collects additional surface inflows and then flows southwest under US 441 through a marshy cove where it is joined by the East Tumblin Creek channel.
The entire basin, except for the Bivens Arm floodplain, has been developed. In many cases, the development stops only inches from the creek channel.
The headwaters are channelized through underground concrete culverts until the stream emerges from a culvert near SW 3rd Avenue. At the end of SW 7th Terrace, a culvert provides a second source of water to Tumblin Creek.
Did you know?
Creek culverts are tubes positioned in a crossing to allow water to pass through without damaging the roadway.
Water Quality
Human disturbance, runoff pollution, lack of good riparian zones, and high storm flows have negatively impacted the macroinvertebrate populations in Tumblin Creek. Biological surveys conducted in 2000 and 2009 classified Tumblin Creek as 'impaired.' However, there was improvement in the types and abundance of macroinvertebrates that were present in 2009 including the disappearance of an invasive snail previously found in high abundance in Tumblin Creek. By 2013, biological surveys of the creek indicate a healthy population of benthic invertebrated with ample habitat. However, different sampling methods were employed, so it can't be determined whether this is a good comparison to the 2009 study. For more information on water quality, download the Tumblin Creek Fact Sheet. Additionally, Water quality monitoring information and gage data are available for Tumblin Creek. To access this data, please visit here and access the monitoring stations and data by clicking on the station on the interactive map.
Plan a Visit
Tumblin Creek can be viewed and enjoyed at the City of Gainesville's Cora P. Roberson Park, formerly Tumblin Creek Park, on SW 6th St and the Bivens Arm Nature Park on S. Main St. which is also in the watershed.
For directions and up-to-date park hours, please visit this Parks, Recreation & Cultural Affairs page: Cora P. Roberson Park
Did you visit Tumblin Creek? Share your photos with us on Facebook or Twitter.
Fun Facts
• The land use of the Tumblin Creek watershed is 25% residential, 21% institutional, 19% transportation and 7% commercial.
• Local citizens report that there used to be a public spring/swimming hole where Tumblin Creek now starts. From reports, we think the swimming hole was in the center of what is now Innovation Square!
• The terminus of Tumblin Creek is Bivens Arm Lake.
Wildlife
Birds such as the red-bellied and red-headed woodpeckers, barred owls, and red-tailed hawks have been seen on numerous occasions near the Tumblin Creek Park, while belted kingfishers travel the nearby stream channel between Depot and SW 16th avenues.
Click the Image to See the Gallery!