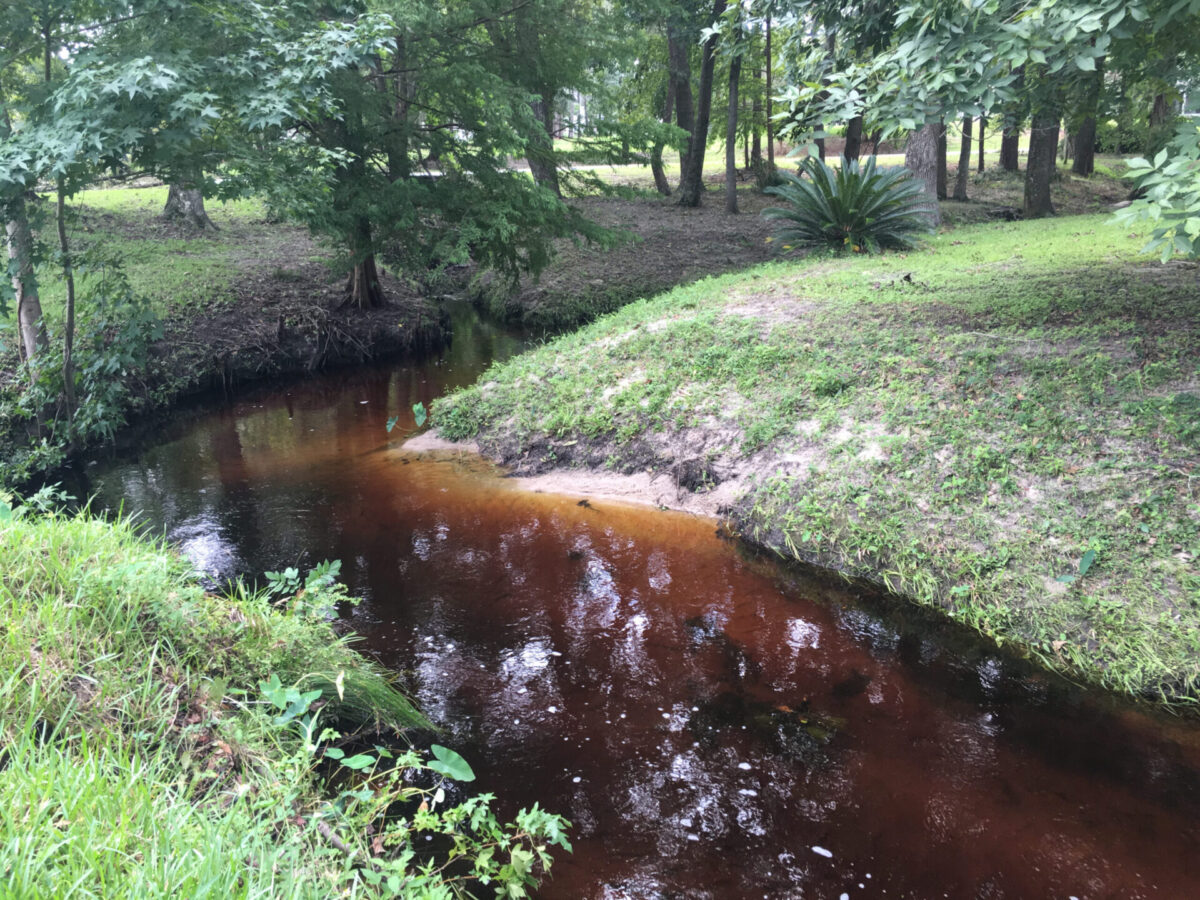 Overview
Turkey Creek is located in Alachua County, Florida between Gainesville and Alachua, east and just west of US 441. It flows northwest into San Felasco Hammock State Park and into Sanchez Prairie where it recharges the Floridan aquifer through Split Rock Sink on Sanchez Prairie.  Land uses include residential, pine plantations, pasture, a golf course and coal-fired electric plant. The Turkey Creek watershed spans 12.4 square miles across Gainesville city limits and Alachua city limits.
 Outstanding biotic features include basin swamp, depression marsh, upland hardwood forest, blackwater stream, and sinkhole, and protection of a poppy mallow population.
Water Quality
Biological surveys of Turkey Creek indicate that the stream has a healthy population of benthic macroinvertebrates with ample habitat, scoring as healthy on the Stream Condition Index. Since 2003, habitat condition and macroinvertebrate diversity has increased thanks to land conservation in the watershed. The Turkey Creek Hammock Preserve has reduced the influence of stormwater in the creek by reducing erosion. Turkey Creek does contain a high abundance of fecal coliform. It is also above the standard set by FDEP for Numeric Nutrient Criteria because of high phosphorus levels likely due to the soils the creek cuts through. For more information on water quality, download the Turkey Creek Fact Sheet.
 Did you know?
Stream or river banks are called riparian areas so the plants that grow on these banks are called riparian vegetation.
Fun Facts
• Turkey Creek flows on through natural forested areas as it enters San Felasco Hammock State Preserve from outside the park boundary, flows through the park, finally dropping into swallows, which drain back into the aquifer via a sinkhole in Sanchez Prairie.
• Turkey Creek arises from groundwater seepage originating several miles northeast of the property.
• Turkey Creek is a meandering stream with small tributaries flowing in from adjacent wetlands. It is generally tannic in color, but can be clear in low water flow periods.
Wildlife
Turkey Creek in 2003 had a macroinvertebrate community dominated by snails, water bugs, and midge larvae. The macroinvertebrate community in Turkey Creek improved in 2009 and includes a variety of beetles, dragonflies, damselflies, mayflies, and amphipods.
Click the Image to See the Gallery!